A big reason you don't want the democrats winning the house in the midterm elections.
Nancy "bright eyes" Pelosi
will be only 2 heartbeats away
from the presidency!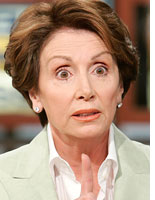 "

America will be far safer if we reduce the chances of a terrorist attack in one of our cities than if we diminish the civil liberties of our own people.
Nancy Pelosi

"